Growing your nonprofit organization means being successful online and using fundamental strategies and marketing tools together to build a strong foundation.
Those key tools and strategies are what help you to keep your community informed, active, and engaged to ultimately grow your organization.
However, managing all of those tools for your marketing efforts can seem cumbersome if you have to jump between multiple platforms and remember all of those different passwords.
At Constant Contact, our goal is to eliminate that cumbersome feeling and make it easy for you to be successful and drive results. We provide a suite of easy-to-use tools and marketing advice that get you where you need to be — all in one place.
Watch this on-demand webinar to see how Constant Contact helps you establish your brand, raise funds, and grow your organization
No matter how long your organization has been running, it's important to make sure you've got a strong foundation in place when it comes to your marketing.
Survey results: How long nonprofits have been running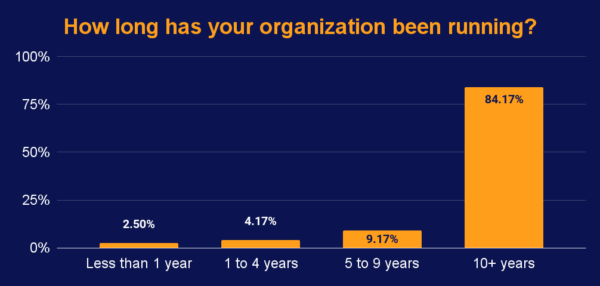 Over 84 percent of respondents said their organizations have been running for over 10 years.
That means ensuring your brand is easily recognized from all of your different channels, including your website, collecting donations online, and using a variety of tools that help you to grow your email list and communicate with your supporters and the community.
Survey results: How those same nonprofits are currently collecting donations
Over half of respondents are currently collecting donations on and offline.
More resources for nonprofits
Get the guide: Making Sense of Online Marketing for NonprofitsCreate your own branded email templateSee our packages and pricing Find more webinars and marketing adviceStart a free trial of Constant Contact
The post Watch: How Nonprofits Can Drive Online Marketing Results & Win with Constant Contact appeared first on Constant Contact.
Read more: blogs.constantcontact.com