Most WordPress users know how to add image galleries.
But there's no built-in option for video galleries in WordPress. For that, you'll need a plugin.
In this collection, you'll find the best plugins available for adding responsive video galleries to your site.
You'll be able to add classic galleries, masonry layouts, and even sliders to your site with ease. Plus, you'll find incredible customization options for changing colors, layouts and more.
Keep reading to find the top picks.
If you want a template with this feature built-in then visit our video gallery WordPress themes collection.
Video gallery plugins
Each plugin listed below has a higher user rating and has been used on thousands of sites already.
Here are the best plugins for adding video galleries to WordPress.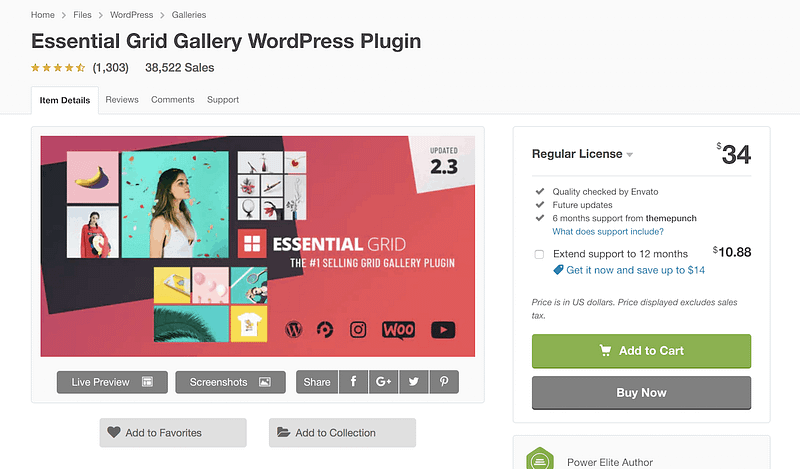 Plugin Description
If you want to create grid and gallery layouts in WordPress, you have to consider the extremely popular Essential Grid Gallery plugin. This plugin has been used on tens of thousands of websites and is frequently bundled with premium themes on Themeforest.
Essential Grid lets you choose from many different sources for your image and video content. You can use Youtube, Instagram, native WordPress galleries, or WooCommerce products, for instance. Then you select your layout style from masonry, cobbles, and an even grid. After that, you can customize the rest of the gallery features like the colors, navigation & filtering, fonts, and more.
You probably won't find a more feature-packed and customizable video grid plugin than Essential Grid. If you want lots of control over the style and presentation of your galleries, then pick up a copy of this premium plugin using the link below.
Full description2. WordPress Youtube Gallery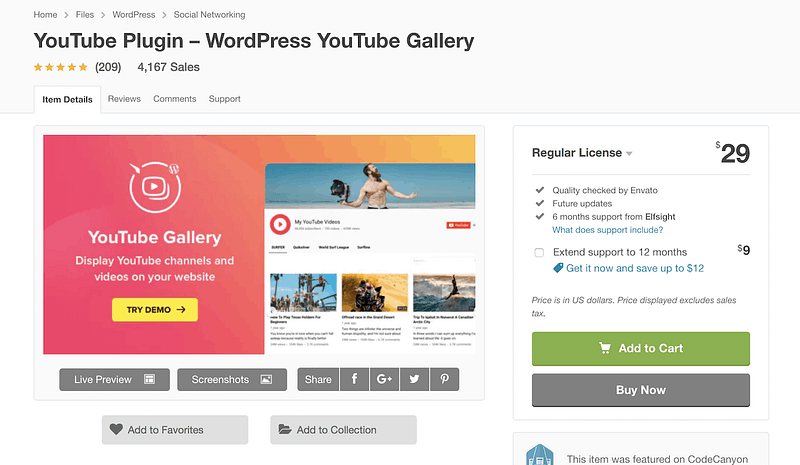 Plugin Description
If you're interested specifically in publishing Youtube videos on your site then you'll love this WordPress Youtube gallery plugin.
This video gallery plugin also enjoys an incredible 4.90 average rating from more than 200+ customer reviews, mostly due to its massive customizability. You can change more than 100+ different settings including color schemes, layouts, and more.
WordPress Youtube Gallery also copies Youtube content onto your site so you can add videos, playlists, and display comments. Basically, visitors can do everything they can on Youtube but without leaving your site. The style is very customizable but stays extremely consistent with Youtube's new clean design.
Full description3. Video Gallery & Player Pro
Plugin Description
The Video Gallery & Player Pro is a great solution for most websites that need to display a video gallery. You'll find slider, carousel, and simple grid displays in this plugin. If you check out the demo website, you'll see all of these styles shown off there.
For each gallery item, you can add a thumbnail image, title, short description, and a link to the video. If your videos are hosted on Youtube or Vimeo, you can just copy & paste in the URLs to add your videos. When a visitor clicks on a video thumbnail, a popup window will open with a player for the video.
To add a gallery or carousel slider into your posts and pages, you can use the shortcode included. This simple system is flexible and allows you to reuse video galleries anywhere you want.
Full description4. Video Gallery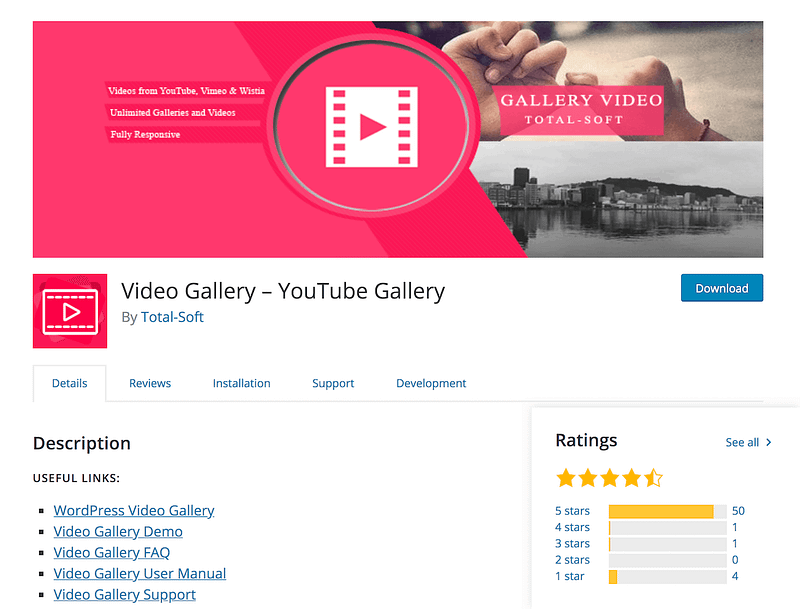 Plugin Description
Another option you'll want to consider is the Video Gallery plugin by Total Soft. This flexible plugin lets you add video galleries to any page of your site using shortcodes.
One cool aspect of this free plugin is that it allows you to customize the animations in addition to other elements of the style. You can change the hover effects and the way the video lightbox shows up. There are also 16 different pre-designed themes to choose from for the overall layout of the galleries.
Any gallery you make can be updated after publishing. And if you update a gallery once, it will be modified everywhere it's shortcode is used on your site. You can add videos from Youtube, Vimeo, and Wistia by simply pasting in the video's URL.
Full description5. GridKit Portfolio Gallery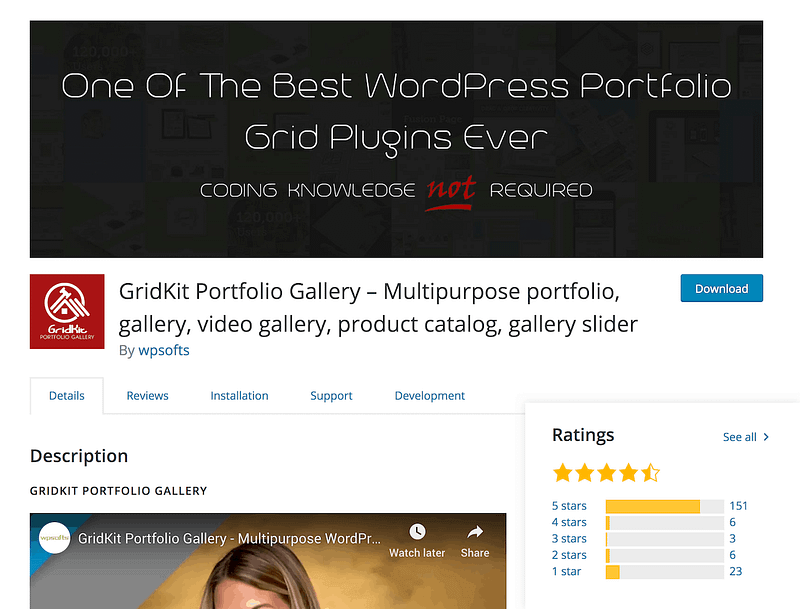 Plugin Description
GridKit is the last recommended plugin in this collection for making galleries with videos. The main difference with this plugin is that it isn't made just for video galleries.
You can use GridKit to make galleries with images as well, but there's a lot more functionality than that. You can create grid displays of customer logos and sponsors, product catalogs, and general portfolios. This makes it a great choice for designers and freelancers who want to show off a variety of their prior work on their website.
GridKit also has some powerful administration controls in the admin. You can group your galleries into albums and reuse galleries as many times as you want (and create unlimited galleries). If you just want a simple way to create a grid of Youtube videos, then you'd do better with the Youtube gallery plugin listed above. However, if you think you'll be creating grid layouts repeatedly on your site for both videos and images, then make this plugin your first choice.
Full description
Which video gallery plugin is best?
I have to recommend Essential Grid Gallery first because it is such a popular option. If customization options are important to you then choose this plugin.
I also want to point out the WordPress Youtube Gallery plugin which is particularly good for Youtubers. You can more or less recreate the same design from Youtube on your own website.
Regardless of which video gallery plugin you choose, I hope this list helps you out. And if you enjoyed this post then make sure to share it with someone else before you leave.
Read more: competethemes.com